Camping for beginners: 12 tips for your first camping holiday
Camping vacations remain a popular choice, resulting in high demand for rental motorhomes and a shortage of available vehicles. In this article, we will provide tips on how to find a mobile home and a pitch, and offer guidance for first-time campers.
1. Camper or caravan? Choose the right vehicle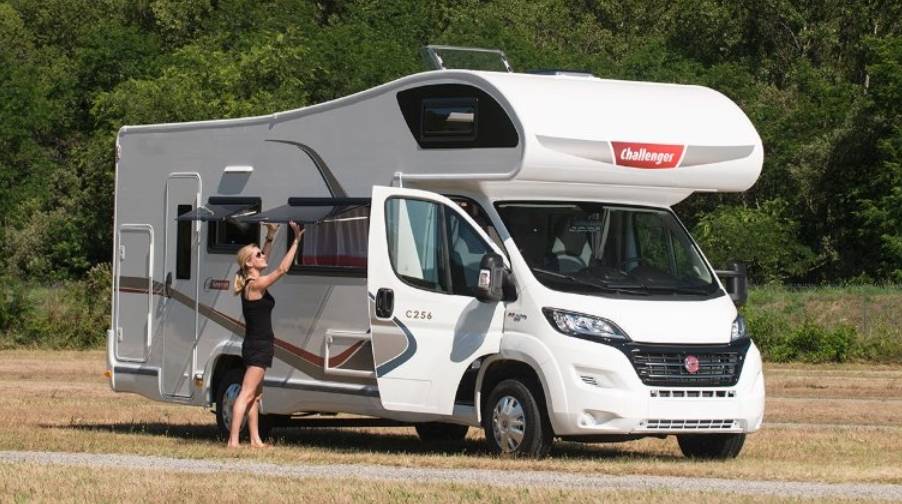 There are pros and cons to both types of vehicles, and for beginners, it's important to consider who will be traveling with them – family, children, pets, or just a couple. They should also think about how much space they will need and how mobile they want to be during the trip. Will there be a lot of stops planned for a round trip, or will they be staying at one or two locations?
A caravan can be a convenient choice if you have a fixed destination. You can park the vehicle in a designated spot, and a large awning can increase the living space. With a car, you can also easily make trips in the surrounding area. However, be aware that hitching and unhitching the caravan can be tricky, and driving and parking with a trailer can be more challenging. Narrow roads in historic towns can also be a challenge for beginners.
For those who plan to travel frequently and change campsites often, a motorhome is a great option. Depending on its weight, it can be driven on roads just as fast as a regular car. Moreover, motorhomes are typically self-sufficient, which makes it easier to find a suitable spot for a break or overnight stay. However, when it comes to mobility at the destination, motorhomes have some limitations. For instance, for individual excursions that cannot be made on foot, by bike or by public transport, the motorhome needs to be repacked each time.
Additional tip: If you are new to camping, it is advisable to rent a caravan or motorhome first to test if this type of holiday suits your preferences. This experience will also help you determine the appropriate size and equipment when purchasing a vehicle in the future. It's important to note that the towing vehicle should be suitable for the caravan. The total permissible weight of the trailer should not exceed the weight of the car.
2. Note driver's license and rental conditions
A regular Class B driving license is sufficient for driving mobile homes weighing under 3.5 t. However, if the vehicle is heavier, at least a Class C1 license is required, which permits driving vehicles up to 7.5 t. For licenses issued before 1999, both classes are allowed. Class B is also sufficient for towing combinations that have a total permissible weight of under 3.5 t, which includes the weight of the car and trailer. A larger driver's license class is required for anything above that. Additionally, most rental companies require a minimum age of 21.
Additional tip: Don't forget that the rental camper you choose should be appropriate for your driver's license.
3. Find a mobile home at short notice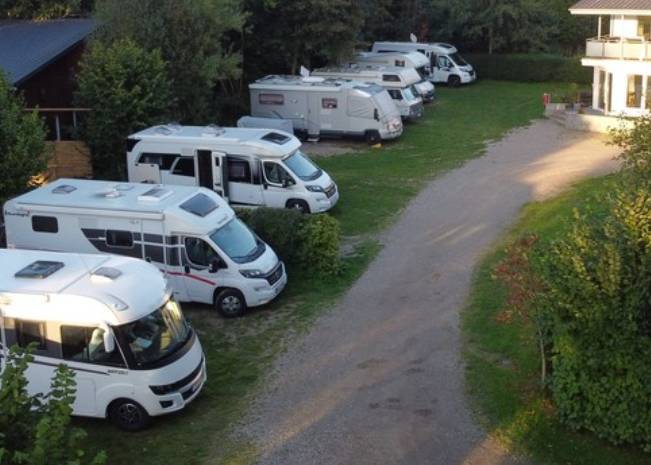 The summer travel season in Germany has seen a scarcity of rental mobile homes since spring. Many central rental stations in larger cities are almost always fully booked. However, there is still some hope left. It's advisable to look for rental options in the extended area around one's place of residence, ranging from 50 to 100 kilometers away. Those who are planning to rent a mobile home in Germany and have a flexible schedule should consider postponing their vacation until after the school holidays.
An additional tip is to consider renting a mobile home only after reaching the holiday destination abroad via car, train, or plane. However, it's crucial to ensure that the vehicle comes equipped with camping essentials upon arrival. Carrying bulky items like tables, chairs, or dishes can be challenging or even impossible.
4. Plan realistic camping destinations and routes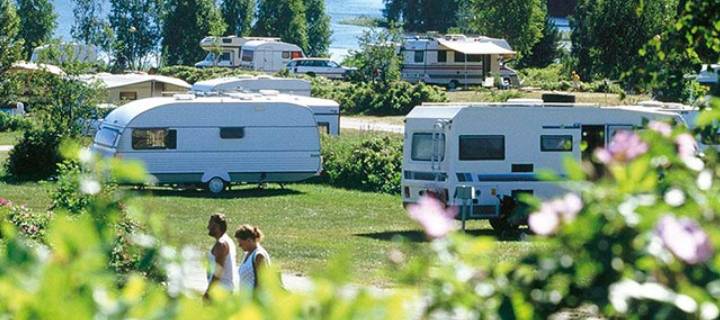 When embarking on a motorhome trip for the first time, it's important to plan a realistic route that isn't too far away. Keep in mind that you can't drive more than 80 to 90 kilometers per hour, so consider how much time you want to spend driving each day. If you're unsure, plan for an overnight stay and reserve a parking spot in advance to avoid frustration. Destinations within Germany or neighboring countries with good infrastructure and comfortable parking spots are ideal. Popular options include France, the Netherlands, Denmark, Austria, and Italy.
Additional tip: Consider your preferences when choosing a campsite or parking space. Do you want to be close to the sea or have a mountain view? Do you prioritize family-friendly amenities, comfort, or a top rating? If you're uncertain, try different options.
5. Last minute camping: be flexible!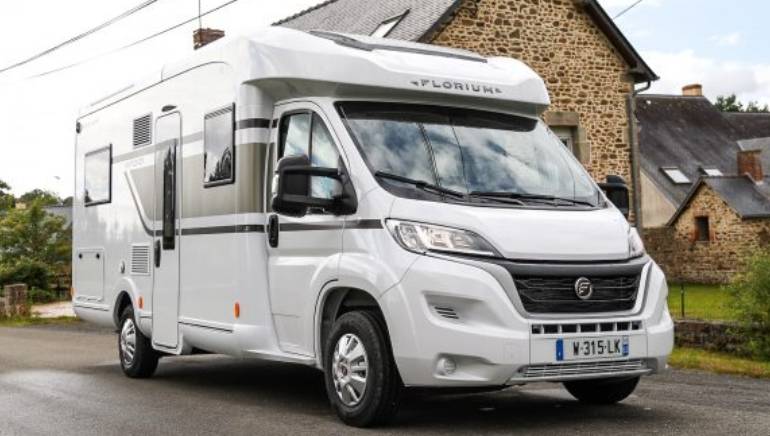 Due to the rise in camping popularity and normalizing travel behavior, campsites are becoming increasingly crowded, with limited availability for summer holiday bookings since April. However, those who remain flexible in their camping destination and are willing to explore areas beyond the German coast (Schleswig-Holstein, Mecklenburg, Lower Saxony) or southern Germany (Bavaria, Baden-Württemberg) may have a better chance of securing a last-minute booking. Additionally, North Rhine-Westphalia offers several highly-rated and well-equipped campsites with 4 and 4.5 star ratings, with four such sites ranking among the top 100 most popular German campsites in 2021.
Additional tip: In recent years, campers have often faced disappointment when finding fully-booked sites without a prior reservation. To avoid this, it is strongly recommended to reserve a parking space in advance. Rather than contacting each site individually, simply entering travel dates and destination on the camping portal will display all available places that can be booked directly.
6. Keep an eye on costs
The daily rental prices for mobile homes vary depending on the size of the vehicle and the rental duration. For instance, a 14-day holiday in midsummer can cost between 100 and 160 euros per day, along with a one-time service fee. Moreover, there may be additional daily charges for services such as pet accommodation (approximately seven to eight euros). In addition to these fees, tolls, parking costs, and petrol expenses are not included in the rental prices. On average, mobile homes consume between 9 to 14 liters of diesel per 100 kilometers. If you exceed the free kilometers, expect to pay up to 40 cents per additional kilometer driven.
The average cost for an overnight stay at a campsite in Germany is 38.33 euros. NRW is a particularly affordable option for families of two adults and one child, with an average cost of €37.02. In the Bergisches Land, campers can find overnight stays for as low as 28.33 euros. In contrast, countries like Croatia, Italy, or Switzerland have parking space prices over 60 euros per night.
Additional tip: To avoid surprises, it's recommended to make a list in advance of all the costs associated with a camping holiday. In addition to rental fees and campground prices, don't forget to include expenses for food and activities such as excursions.
7. Get to know the vehicle before driving
Allow sufficient time for the pickup of your rented mobile home or caravan, as you will be given a thorough briefing that can take up to an hour. If you are new to camping, it is recommended to have the landlord demonstrate all the functions and explain them in detail. For example, in a mobile home, this may include familiarizing yourself with the buttons and levers on the driver's seat, operating the controls inside the vehicle, handling fresh water and waste water, managing the electricity and gas supply, using the chemical toilet, shower cubicle, galley, rotating seats, and lifting bed.
If you're renting a mobile home for the first time, it's important to get acquainted with the unfamiliar vehicle dimensions, including its length, width, and height, as well as its driving behavior. It's recommended to practice in a large car park before hitting the road, trying out cornering, slalom, swerving, and braking maneuvers. If you want more comprehensive training, you can enroll in a special safety training course for mobile homes and trailers offered by the driving safety centers.
Additional tip: Upon returning home, it is highly recommended to thoroughly read through the operating manual and prepare sticky notes to label the individual controls in the mobile home or caravan. Video tutorials can also be a helpful resource to provide useful tips and advice.
8. Pack properly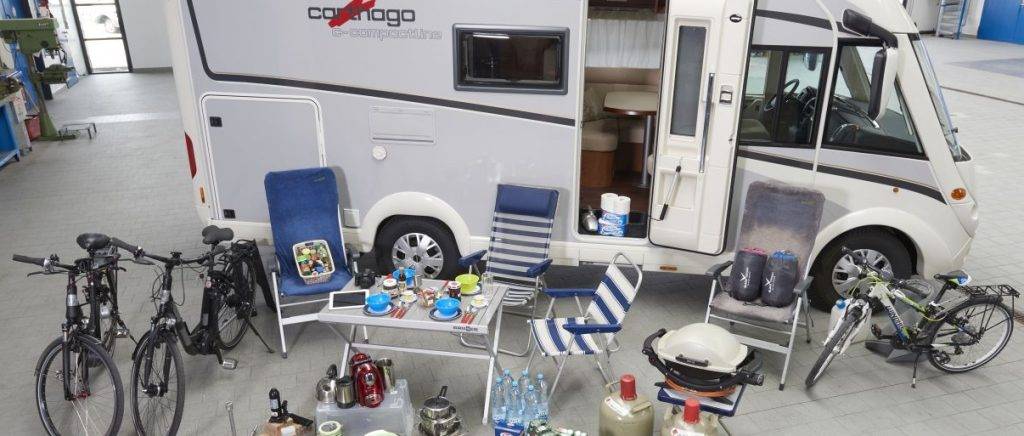 When renting a vehicle, it's important to note that it's usually empty and doesn't come with towels, crockery, cutlery or bed linen. Additionally, child seats are not typically included in rental motorhomes, so parents should plan accordingly. To avoid overloading and ensure driving safety, it's recommended to only pack essential items. Online templates, such as those available on PiNCAMP, can be useful for creating a packing list. Essential items include washing-up utensils, clothesline and clothespins, toilet paper, flashlight, lighter/matches, light and unbreakable crockery, cooking pots, cutlery, spices, garbage bags, mosquito spray, power tape, cable ties and a grill.
Even distribution of weight is crucial for safe driving. Heavy items should be placed near the bottom of the vehicle, while lighter items such as clothes, spices or cosmetics can be stored in upper compartments. It's important to secure everything properly. Another useful tip is to only fill the water tank with the necessary amount of water for the trip and to purchase groceries locally. When traveling abroad, it's important to consider any medication needs and potential import restrictions, and to carry a doctor's certificate if necessary.
9. Obtain information about the destination country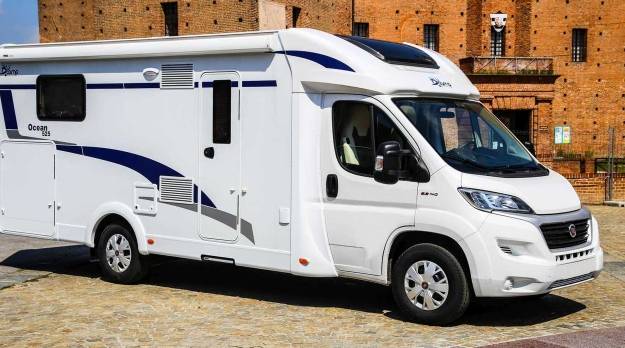 Before embarking on a camping trip, it's important to research the regulations of the destination country. This includes checking for any special traffic rules, local transit restrictions, or environmental zones that may be in place. Additionally, it's important to determine if a vignette or other toll regulations apply. This information can help avoid fines and prevent any unpleasant encounters with regulatory authorities. It's also recommended to bring a campsite guide and maps in case the navigation device fails or cell phone reception is disrupted. Lastly, it's important to confirm whether gas bottles can be easily exchanged, or if an adapter is necessary.
Additional tip: Travel guides, maps, and vignettes can also be obtained through these resources. Additionally, local tourist information offices can provide excellent excursion tips and information for campers.
10. Check insurance coverage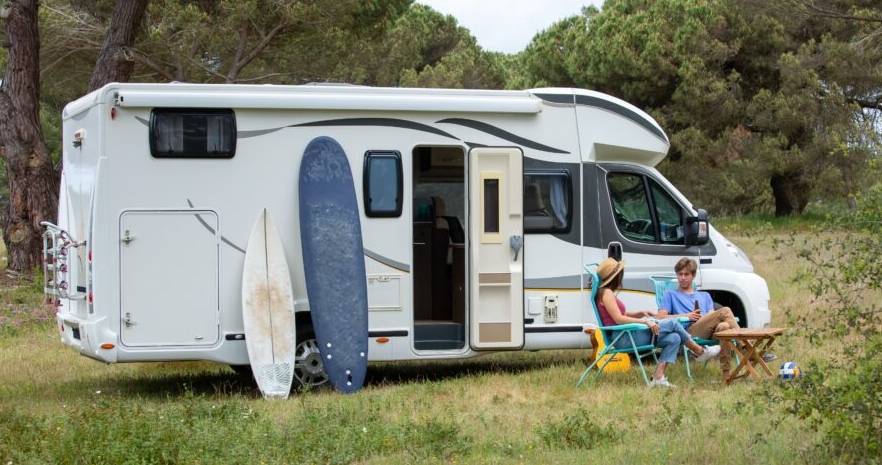 When renting a vehicle in Germany, it's important to note that in addition to the mandatory liability insurance, there are options for fully comprehensive or partially comprehensive insurance. Opting for fully comprehensive insurance is generally recommended. It's also important to review the deductible, which can range from 1000 to 3000 euros. In the event of damage, this can significantly impact your holiday budget. Optional excess insurance is available to reduce the deductible, but it can increase the daily rental price and may not cover all types of damage. Therefore, it's important to carefully evaluate these options. Additionally, it's recommended to confirm whether the green insurance card is valid in the destination country.
When traveling abroad, it's advisable to obtain international health insurance to protect against unexpected medical expenses. It's also important to check in advance whether your passport or identity card is still valid, and whether your vaccinations are up to date for the destination country. Additionally, it's important to check the EU pet passport and vaccination status of any pets traveling with you.
11. Catering on site: check camping recipes online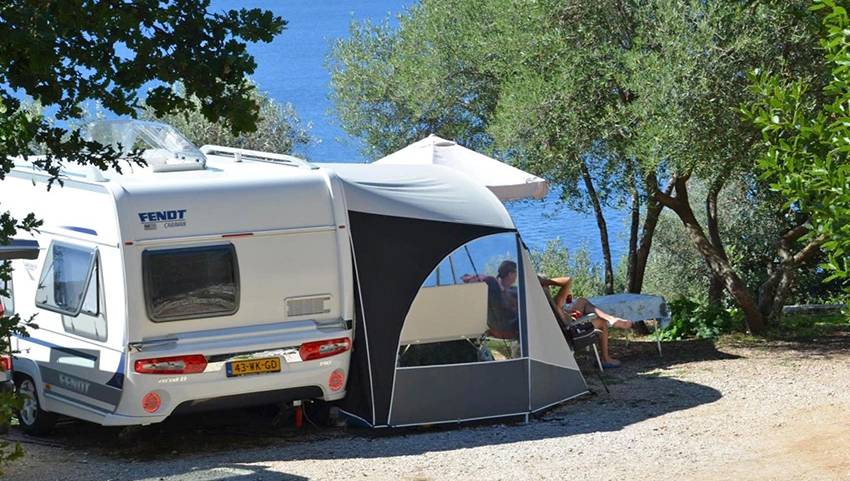 Cooking in a camper can be challenging initially, as there are typically fewer stovetops and they are positioned closer together. As a result, it's best to avoid meals with several courses initially. Instead, it's recommended to plan ahead and search for camping recipes online that appeal to you. Additionally, bringing a special camping grill can broaden your culinary options. If you prefer not to cook, many campsites offer a variety of dining options. By conducting some online research, you can also find excellent restaurant recommendations in the area, avoiding overpriced tourist traps.
Additional tip: Purchasing fresh seasonal goods from local weekly markets is a fantastic way to explore and become acquainted with the holiday country while obtaining delicious ingredients.
12. Spontaneous overnight stay: observe country rules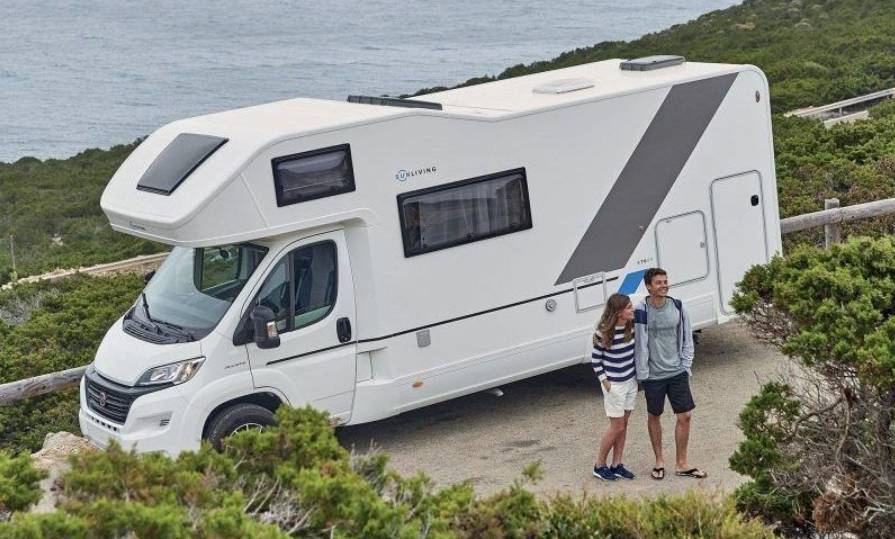 In Europe, only Romania allows for free overnight camping. Other countries have restrictions or completely prohibit free camping. Scandinavian countries have a more lenient approach, but there may be regional limitations. In Germany, one-time overnight stays are only allowed for the purpose of regaining driving ability. If you are exhausted, you can park your vehicle in a non-prohibited area, but only for rest and a maximum of ten hours. Regardless of the legal situation, campers should respect local residents, especially when staying overnight unexpectedly. In case of a conflict, it's best to have a conversation to clarify things. Setting up sun loungers, grilling, and extending awnings are not allowed while camping.
Additional tip: When looking for a place to stay overnight on a short-term basis, consider checking online platforms that offer private spaces for campers or directly asking local establishments. Numerous rural businesses such as farms, wineries, breweries, and cheese dairies may provide free or reduced-price parking spots for campers.