5 Good Reasons To Choose A Quality Campervan To Go On Holidays
With the comfort of a home and the mobility of a car, the motorhome is one of the most popular vehicles for going on vacation. 5 reasons to adopt it!
It's no longer just a fad, the motorhome world is becoming more democratic and the desire to go on the road with a house on wheels is increasing more and more. Even if the first desires were oriented towards rebuilt old utility vehicles, the luxury, comfort and reliability of new vehicles remain important factors when buying before setting off.
1. Specialist build quality
Even if the number of companies offering the repair of old utility vehicles and fitted out vans has increased following the health crisis and the travel desires, nothing will replace the many brands available on the market which offer quality work in a vehicle designed for daily and intensive use of a motorhome. Quality equipment and specially designed to maintain comfort like at home, but on 4 wheels. Thanks to these companies, like Hymer, we find ourselves in a motorhome like at home, with well thought-out equipment for living there, but also during our travels. We therefore find a total modularity of the living space, the television or the wifi on several new models, a significant bonus also remains the quality of manufacture of the increasingly eco-responsible products.
2. The engineering of the proposed equipment
The advantage of new will always remain the choice of novelties, and one of the great battles of motorhome manufacturers is comfort, whether it is that of life on board or that behind the wheel. Manufacturers are waging a fierce war so that the received idea of having to sweat at each complicated maneuver is no more than a bad memory. Among the new features, increased visibility from the front windshield to the reversing cameras. Another effort made for the interior will be the increasingly necessary connectivity these days, which allows you to work or relax no matter where the motorhome is. All manufacturers, Hymer in the lead, are launching their applications allowing the owner to connect to his vehicle and adjust several parameters such as heating, lighting or consult the stock of water tanks, all from his phone.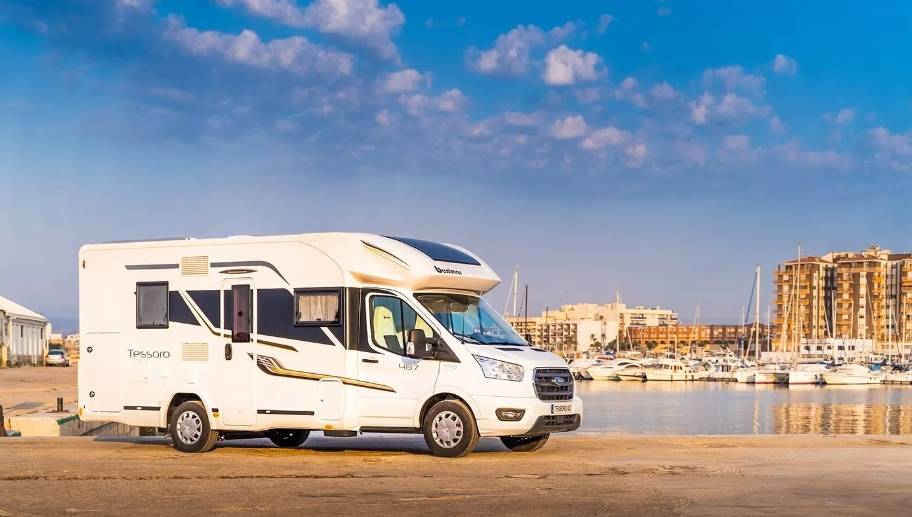 3. Increased driving pleasure
New motorhomes are increasingly offering reworked and lighter chassis, all with a more powerful and torquey engine. As a bonus, more and more new models offer 4-wheel drive systems, increasing the possibilities of destinations on board. All in tested and approved reliability with the latest regulations in Europe.
4. Safe from unpleasant surprises
This is necessarily a parameter that does not please anyone, but which must be taken into account before taking the road for a vacation or a road trip. The unexpected and bad surprises exist, a good quality purchase avoids this kind of imponderables. The reliability, quality and know-how of the manufacturers allow you to leave with a lighter and serene mind, we can only recommend that you take quality and modern equipment before hitting the road. Nothing is worse than a trip marred by breakdowns or problems due to faulty or poorly thought-out equipment.
5. Our advice
This fifth point is more like a favorite and a brand that has proven itself. Hymer, a German manufacturer since 1957, offers a very wide range of vehicles ranging from fully equipped new utility vehicles to motorhomes. Unfailing robustness and reliability as well as impeccable manufacturing quality. A manufacturer already widely acclaimed since no less than 4 models were awarded in 2022 and their Hymer connect application received the distinction of "German Innovation Award 2022".