Luxury Road Trips Redefined: Experience Unparalleled Comfort with These Innovative Travel Trailers
Embrace Off-Grid Living Without Compromising on Convenience
When an architect and his wife draw upon their extensive travels in mobile spaces to craft a travel trailer, the result is nothing short of remarkable. Enter Living Vehicle (LV), a luxurious, stylish, and exceptionally functional product born from the creative minds of Matthew and Joanna Hofmann.
Brace yourself for the unveiling of two extraordinary newcomers for 2024—the HD and LT models. These latest offerings epitomize opulence, technological innovation, and a passion for seamless mobile adventures. Leading the pack is the HD (Heavy Duty), a magnificent 30-foot long, three-axle marvel. It boasts a revamped bedroom featuring three enticing options—King bed, Mobile Office, or Queen Bunk Room. Enhancements include the inclusion of a Mini-Split HVAC system and an expanded solar roof, amplifying its capabilities. Drawing a fitting analogy from the marine world, Matthew and Joanna Hofmann describe the HD as akin to a Luxury Motor Yacht, exuding elegance and splendor.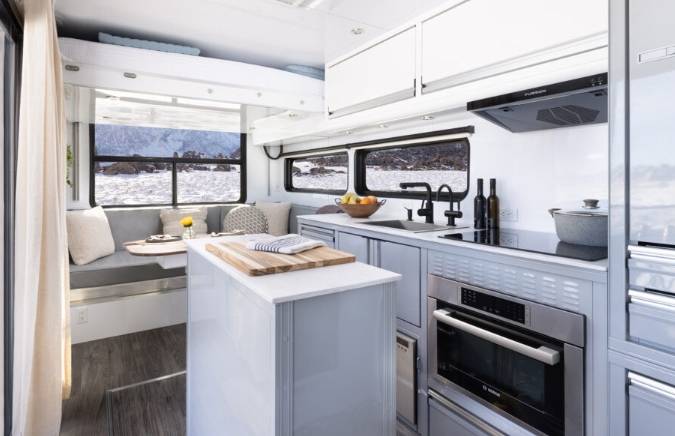 Presenting the remarkable LT (Luxury Touring) model, a 24-foot-long travel trailer designed to deliver agility and adaptability for off-grid adventures. Sharing comparable energy capabilities with its counterpart, the HD, this model is a testament to Living Vehicle's commitment to unrivaled performance. The LT features a cozy front sleeping area, with the Euro Loft queen in the living room serving as the primary sleeping space. What sets this model apart is its ingenious multipurpose gear closet, which can transform into a two-person bunk room or serve as a private office, catering to diverse needs. In our exclusive conversation, we delve into the intricacies of this exceptional creation, exploring the insights shared by Matthew and Joanna Hofmann.
What served as your muse when envisioning these latest models? In terms of design and aesthetics, what inspired your creative direction?
Embedded in our essence is an unwavering passion for design and architecture, driven by the desire to craft functional and sustainable living spaces that resonate with individuals. As a mobile product designed to embrace the great outdoors, Living Vehicle encompasses real-world considerations of design, functionality, and sustainability. From traversing highways to venturing off-road, enduring diverse climates, and adapting to ever-shifting conditions, our designs prioritize exceptional quality and elevate the user experience. By meticulously addressing these facets, we ensure that Living Vehicle remains a sanctuary that harmoniously merges with the adventures and lifestyles of our cherished users.
In an industry where quality often goes unnoticed, we steadfastly prioritize the foundation of excellence in our RVs and travel trailers. Every decision we make is anchored in a commitment to unwavering quality, ensuring that our customers enjoy a secure and comfortable experience. Whether facing an unforeseen storm in sub-zero temperatures or embarking on weeks of off-grid exploration, our deliberate focus on quality guarantees a haven that surpasses expectations and delivers unparalleled peace of mind.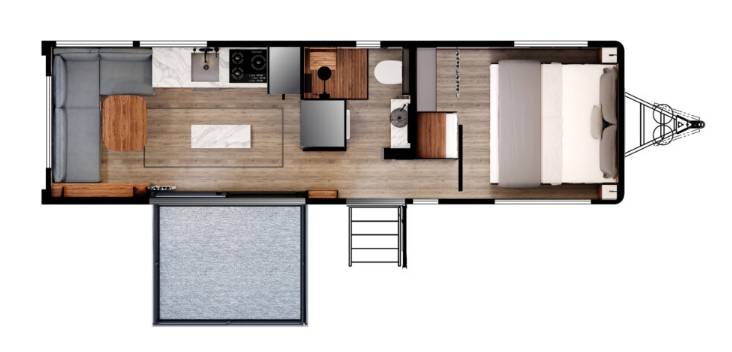 Our design inspiration draws from a rich tapestry of influences, encompassing the visionary works of esteemed architects such as Frank Lloyd Wright, Kengo Kuma, and Peter Zumthor. We find inspiration in their adept utilization of natural materials, harmoniously blending their inherent properties to create authentic and functionally superior solutions. These architectural luminaries serve as beacons, guiding us towards a design approach that embraces the beauty of nature while maximizing functionality, resulting in spaces that exude both elegance and purpose.
Beyond the esteemed architects who inspire us, we find profound inspiration in the very essence of nature itself. By honoring the inherent qualities of natural materials, we forge spaces that embody not only functionality but also an intrinsic harmony with their surroundings. We firmly believe that honest materiality and thoughtful design engender a deep connection to the natural world, a connection of utmost significance when crafting homes like Living Vehicle. Through the deliberate use of natural materials and the creation of spaces that seamlessly merge functionality and beauty, we aspire to ignite a passion within our customers, inspiring them to embrace a lifestyle in closer harmony with the bountiful wonders of nature.
What sets apart the new features on these models from their predecessors, and what motivated their inclusion? Were these additions influenced by market research or customer feedback?
The latest addition to the Living Vehicle lineup, the HD model, introduces a range of groundbreaking features that redefine the possibilities. Notably, it showcases a dual solar awning, housing the highest solar capacity ever installed on a travel trailer. This innovation ensures a remarkable abundance of solar power. Furthermore, the HD-PRO variant impresses with a remarkable 48″ horizontal knife-edge aluminum plane that extends on each side, enhancing both space and functionality. This unique design facilitates an "all solar roof" configuration, seamlessly integrating edge-to-edge solar panels. These exceptional enhancements epitomize our commitment to pushing the boundaries of excellence in mobile living, providing our customers with unmatched capabilities and experiences.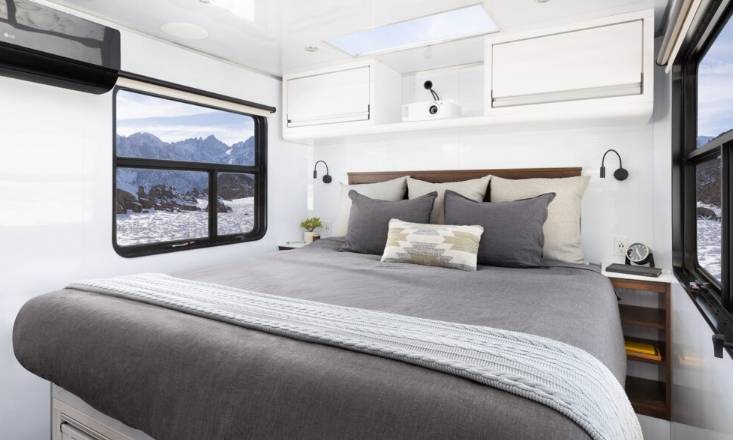 The HD model offers one of the most lavish accommodations in the form of a spacious King bed, meticulously crafted for customers who prioritize both comfort and generous storage capacity for their gear. In addition to this opulent feature, the HD model encompasses 100% rigid closed-cell foam insulation and a conditioned basement, ensuring an interior that remains refreshingly cool even amidst scorching environments surpassing 120°F. Furthermore, the PRO model sets a pioneering standard by withstanding sub-zero temperatures, down to an industry-first -4°F, utilizing electric heat. At Living Vehicle, we place utmost importance on backup and redundant fuel sources, ensuring unwavering reliability even when faced with unexpected circumstances.
The inclusion of these new features was a direct response to valuable customer feedback and comprehensive market research. Through this process, we identified a strong demand for enhanced functional storage space and augmented capabilities, power, and modern technological features. To meet these needs, we made strategic advancements, including increasing the flagship model's overall size by one foot and integrating extensive storage systems throughout the living room, kitchen, entryway, bathroom, bedroom, and exterior. These meticulously designed models empower our customers to embark on off-grid adventures with unparalleled ease and the freedom to explore the world to its fullest extent.
Could you please provide more specific details about the design challenges you encountered with these new models?
The pursuit of incorporating innovative features and technologies while maintaining an optimal balance between functionality and livable space presents us with significant design challenges for each new model. One notable challenge we encountered was with the HD model, where we aimed to enhance its solar capabilities for improved energy efficiency. However, the industry-standard location for AC units on the roof conflicted with the placement of solar panels. Resolving this challenge required a comprehensive redesign of the AC system and finding an alternative location that seamlessly integrated with the vehicle's design and layout. This led to a groundbreaking industry first, where a Dual-Zone Mini-Split AC style system was fully integrated into the design. As trailblazers in the industry, we continually push the boundaries of what is currently available on the market, necessitating innovative solutions to overcome design hurdles. Our unwavering objective is to create mobile homes that are both functional and exceptionally comfortable for our customers, regardless of the destinations their adventures may take them.
Are there any particular features or details that stand out as personal favorites to you?
In terms of lifestyle, the spa-like shower is a standout feature that truly brings a sense of indulgence and relaxation. Additionally, we take great pleasure in the fully loaded kitchen, versatile deck, and the Euro loft—an innovative bed that seamlessly descends from the ceiling. These conveniences are what make it not only feasible but also enjoyable to live in a trailer on a daily basis, even when completely off the grid. These luxuries ensure that every aspect of your mobile living experience is elevated and harmoniously integrated into the Living Vehicle.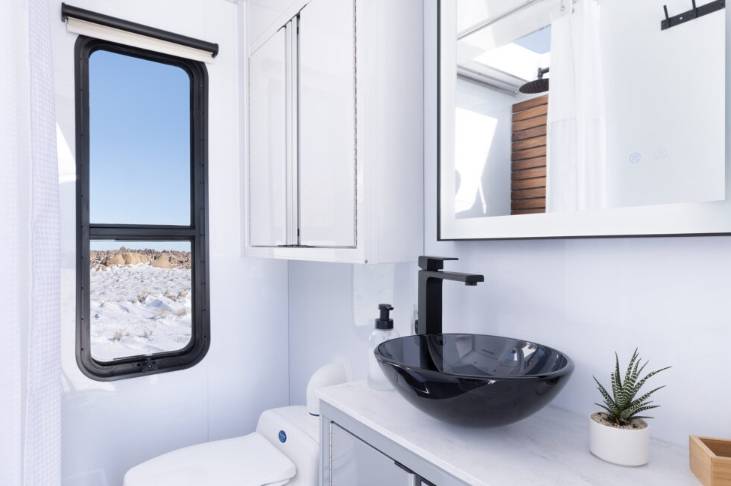 From a technological and innovative standpoint, one of the most captivating features is the solar awning, which not only amplifies solar capacity but also provides shade. The meticulously crafted cabinetry exemplifies our commitment to high-grade materials and exquisite attention to detail. Additionally, the airtight windows, four-season insulation, and the protective shell design for critical systems contribute to the overall resilience and efficiency of the Living Vehicle. The conditioned basement further enhances the functionality and adaptability of the living space. With Living Vehicle, we take immense pride in the fact that you never have to compromise comfort for functionality or sacrifice aesthetics for utility. Every aspect is thoughtfully designed to seamlessly merge convenience, innovation, and exceptional design.
Are there any other noteworthy features you would like me to highlight?
Living Vehicle proudly presents two groundbreaking features that elevate the off-grid living experience to new heights. The first is the Dual-Zone Mini-Split AC and Heating System, a pioneering innovation in the industry. This European-style mini-split air conditioning system sets a new standard with its remarkable SEER 21 rating, consuming only a fraction of the power required by traditional RV-style rooftop systems. With the ability to heat and cool, this dual-zone system boasts a combined 24K BTU conditioning power, providing efficient and electric climate control. It empowers adventurers to explore the most extreme climates, operating flawlessly in temperatures as low as -4 degrees Fahrenheit and as high as 120 degrees Fahrenheit. This feature ensures optimal comfort and adaptability, enabling you to embark on unforgettable journeys regardless of the environmental conditions you encounter.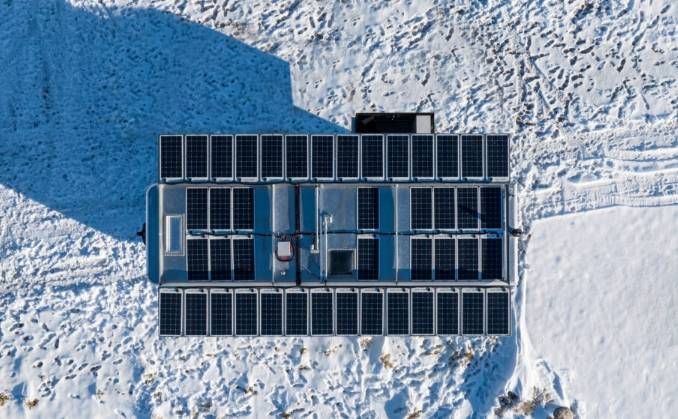 Additionally, we are thrilled to introduce the Street-side Dual Solar Awning, an extraordinary engineering achievement that sets a new standard in solar capacity for travel trailers. This awe-inspiring awning showcases a 48″ horizontal knife-edge aluminum plane that extends on both sides of the HD-PRO model, providing an astonishing 4,400 watts of solar power. The LT-PRO model comes with a standard Dual Solar Awning, offering a remarkable 3,400 watts of solar capacity. These two remarkable features enable Living Vehicle to deliver an unparalleled off-grid living experience for enthusiasts seeking a truly electric, ultra-efficient, and sustainable lifestyle. With this exceptional solar power capacity, you can embark on adventures with confidence, knowing that you have an abundant and renewable energy source to power your journeys.