Top Campervans of 2023: Your Ultimate Staycation Machines for the Summer Season
Amidst the pandemic, campervans witnessed a remarkable surge in popularity, and the reasons behind it are evident. With international travel fraught with uncertainty, opting for a holiday within the UK offers numerous advantages such as exemption from pre-departure Covid tests, freedom from travel restrictions, and a sense of liberation. It's the perfect blend of convenience and peace of mind.
These compact motorhomes serve a purpose beyond just being holiday vehicles. They prove to be highly versatile second vehicles, excelling in tasks such as carrying heavy loads like estate cars, and can easily transform into practical people-carriers with the right model selection. Their versatility knows no bounds.
Additionally, they serve as a convenient spare bedroom or a dedicated workspace, offering a quiet and secluded environment away from the distractions of home life. Their versatility extends to multiple applications beyond traditional holidays.
Best campervans 2023
No matter how you utilize it during the week, campervans provide the freedom to explore the multitude of campsites across the UK on weekends.
While they may come with a hefty price tag, campervans can provide countless years of joyful vacations. What's even better now is that you have the option of choosing manufacturer-backed campervans, which are sold and supported by reputable vehicle brands instead of smaller third-party conversion companies.
If you're interested in a comparison between two top contenders in this category, namely the Volkswagen California (above) and the Ford Transit Custom Nugget, we've provided a detailed analysis below. Scroll down to read more about it.
Volkswagen California vs Ford Transit Custom Nugget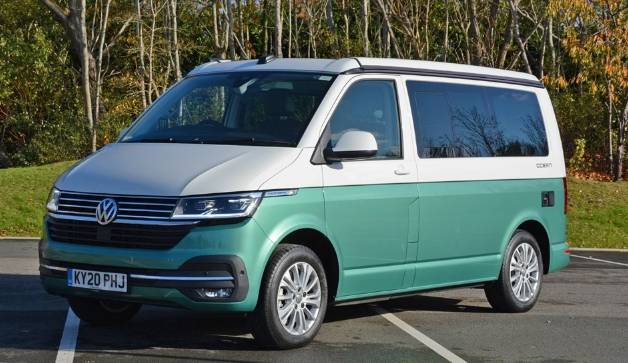 If you're in the market for a mid-sized campervan, both the Volkswagen California and the Ford Transit Custom offer compelling options. These vehicles are built on two of the top panel vans currently available: the stylish Volkswagen Transporter and the popular Ford Transit Custom. With sleeping space for a family of four, pop-up canvas roofs for added headroom, and all the essential amenities, they provide a self-contained home on wheels.
While they share a similar price range of around £65,000 (US $82841,20), the Volkswagen California Ocean showcased here can reach £72,000 (US $91762,56) with optional extras, including a premium paint job priced at nearly £3000 (US $3823,44). However, there are distinct differences between the two, and in our assessment, one emerges as the clear winner.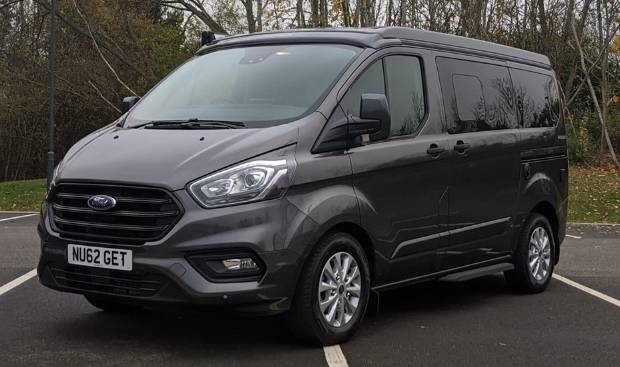 The donor vehicle: an important choice
While Fiat dominates the market for larger campervans, the mid-sized category is ruled by the Volkswagen Transporter. There are several factors contributing to its supremacy, but one of the most compelling is undoubtedly nostalgia. The iconic VW Camper holds a special place in people's hearts, much like the Beetle or Mini. Its timeless appeal adds to the allure of the Volkswagen Transporter in the mid-sized campervan segment.
The driving experience of Transporters is superb, thanks to the incorporation of cutting-edge technology borrowed from VW's passenger cars, robust diesel engines, and smooth DSG automatic gearboxes in the latest T6 models. Furthermore, they exude a sense of elegance and are known for their sturdy construction. Third-party converters particularly appreciate their generous payloads, spacious interiors free from obstructions, and impressive track record of reliability.
Since their inception, VWs have been popular choices for camper conversions, but it was in the 1980s that the California name made its debut on a T3 Transporter-based motorhome. During that time, the renowned camping company Westfalia handled the conversion process. However, in 2003, VW decided to revive the California name and started manufacturing their own California models in a specialized factory in Germany.
Range, specs, what to look out for
In a fascinating turn of events, Westfalia takes charge of the conversion process for the Ford Transit Custom Nugget. Unlike Volkswagen, Ford is not directly involved in the production of these campers. However, similar to the Volkswagen, you can purchase, service, and maintain the Ford Transit Custom Nugget at authorized Ford dealerships, and it comes with a comprehensive manufacturer warranty covering both the base vehicle and the conversion.
The Transit Custom serves as an excellent foundation for the campervan conversion. It holds the distinction of being the top-selling van in the UK for a good reason. Not only is it enjoyable to drive, but it also offers remarkable versatility. Its widespread popularity ensures that maintenance is both affordable and convenient.
Both the Ford and Volkswagen campervans provide customers with a selection of engine options. The Ford model offers a 2.0-liter diesel engine with either 128bhp or 183bhp, with the latter paired with a six-speed automatic gearbox. On the other hand, the VW campervan is equipped with a 2.0-liter diesel engine available in 148bhp or 197bhp variants. The Ocean models of the VW campervan feature a seven-speed DSG automatic transmission, and four-wheel drive can be added as an optional feature.
When it comes to driving experience, the Ford Transit takes the lead, although the VW's automatic gearbox is smoother, and its diesel engine is more fuel-efficient. However, in terms of in-cab comforts, the California Ocean surpasses the Transit. It offers features like climate control, LED headlights, and a fully digital dashboard, which may not be essential for regular van drivers but are highly valued when creating a home away from home. Ultimately, the choice between the two campervans comes down to personal preference and priorities.
What are these campers like inside?
The layout of these two vans is completely different. The California follows a more traditional design with a side-mounted furniture unit, a rear-hinged rising roof, and a rock'n'roll bed on the lower level. This layout is commonly used in campervans of this size for its simplicity and versatility, which explains its popularity.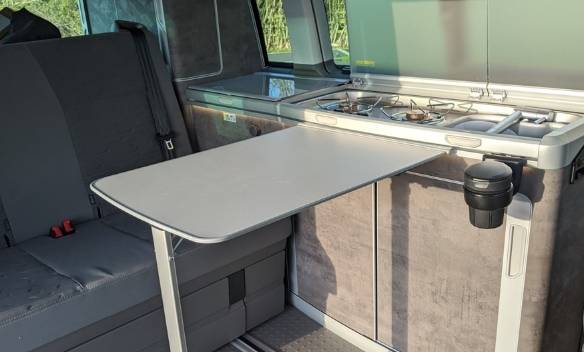 The electrically-operated roof of the California accommodates sleeping space for two people, while the lower level can sleep an additional two individuals. The van is equipped with four belted travel seats for safe transportation. Alongside the side kitchen unit, you'll find essential facilities such as a sink with hot and cold running water, a twin-burner gas hob (supplied by a rear-mounted gas cylinder), and a convenient top-loading fridge.
Located behind the rear bed, you'll find a wardrobe and a designated storage area, often referred to as the "boot" space. This feature is particularly useful when utilizing the California as a secondary car or for keeping suitcases and bed linens organized while on the go.
The Nugget takes a completely different approach. Its kitchen is designed in an L-shape and positioned at the rear of the van. The front-hinged roof allows for ample standing room around the sink, twin gas burners, and top-loading fridge.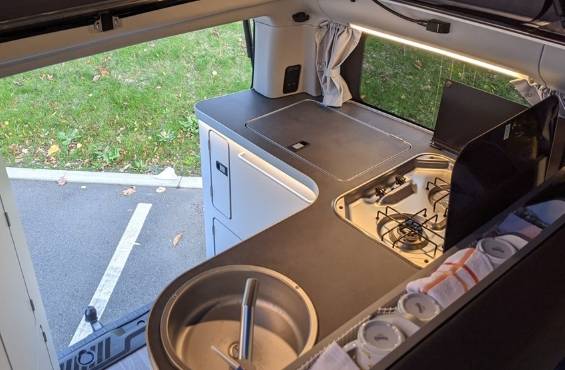 The rear seat in the Nugget, which is a three-seat bench, is positioned closer to the front seats. It can be converted into a bed, although the process is not as straightforward as in the California. The layout of the top beds in both vans is quite similar.
How are these campervans to live with?
The preferred layout ultimately comes down to personal preference. We find the California's traditional layout to be more versatile, providing a sense of spaciousness and offering the practicality of the "boot" area. However, some argue that the Nugget's split personality can be advantageous. For instance, one parent can cook in the rear while the other engages with the kids in the front.
The Ford stands out with its twin sliding doors and three-seat rear bench, making it more practical for transporting people. However, it's important to mention that it can still accommodate only four people for sleeping arrangements. On the other hand, the California offers the option of a third rear seat as a separate unit, although it can be costly and cumbersome to add.
The standout difference between these two vans lies in the quality and usability of their interior conversions, which becomes apparent within minutes of experiencing them. The Volkswagen California boasts a clear, high-quality, and user-friendly interior design, while the Ford Transit Custom Nugget's interior feels more awkward and cumbersome in comparison.
Consider the process of unfolding the lower bed, for instance. In the California, it's a straightforward three-step procedure: effortlessly lower the rear headrests with a touch of a button, slide the seat forward, and fold down the backrest to create a flat surface. However, in the Nugget, this process is twice as time-consuming, involving stiff and uncomfortable levers, and often requiring you to step outside the van, which can be quite inconvenient, especially in cold or rainy weather conditions.
Let's talk about the small details. Who would have guessed that curtains could be such a hassle? The Nugget has curtains on every window, but they are attached with frustratingly intricate popper buttons. By the time you manage to close one, you could have effortlessly rolled down all of the California's blinds with just one hand. The same goes for the front windows, where the California boasts magnetic blinds that securely fasten in an instant, while the Ford relies on insulated screens held by suction cups. Well, at least in theory, because in our case, we discovered in the morning that they had fallen off during the night as we descended from the top bed.
These concerns might not be deal-breakers for everyone, and the advantage of being able to personally inspect and explore both vans at main dealerships allows you to make an informed decision. However, in our opinion, the California is the clear winner. If we were looking to save some money, we would forgo the options included in our test van (although it would be difficult to resist the £2880 two-tone paint job…) and opt for the lower-powered 150hp engine, which is still quite responsive and capable.
The transformed van would exude effortless competence and boast impeccable craftsmanship, with resale values that surpass most cars' expectations. It's tempting to brush off the California and similar vans as expensive indulgences, but the priceless memories you can create during a decade of worry-free ownership make it a worthwhile investment.
What are the alternatives? We name the best campervans of 2023
Mercedes-Benz Marco Polo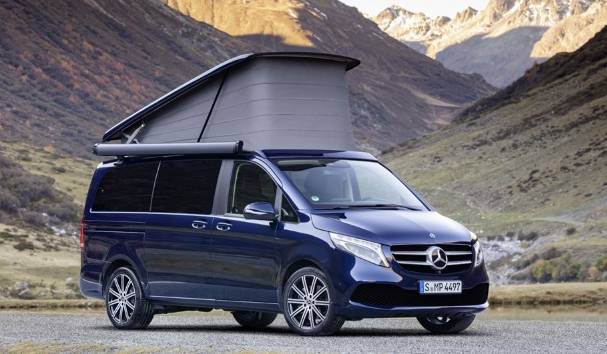 Not interested in a Ford or a VW? There's another campervan available in the UK that enjoys full support from its base vehicle manufacturer – the Mercedes-Benz Marco Polo. Unfortunately, due to the pandemic, we were unable to test this van alongside the previous two. However, we had the opportunity to test one back in 2019. Exuding luxury befitting the three-pointed star emblem, the Marco Polo is based on the V-Class people-carrier and equipped with powerful diesel engines and smooth nine-speed automatic transmissions. It's a top-tier option for couples, although we find it slightly less accommodating for families compared to the Volkswagen California. With a similar price range, it's definitely worth considering.
Volkswagen Grand California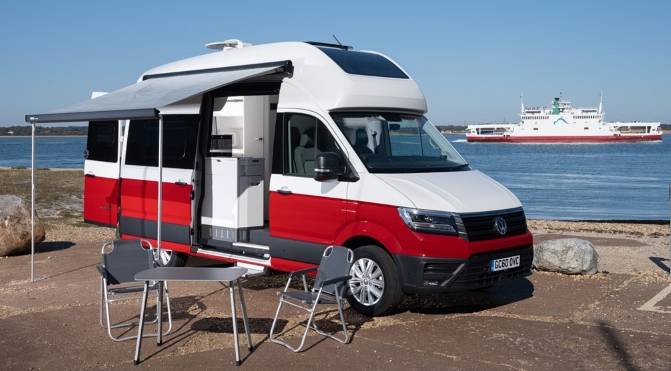 If you prioritize spaciousness and are less concerned about the overall size of the vehicle, then the Grand California is worth considering. It is based on the Volkswagen Crafter, which is already an excellent large panel van, and takes all the great features of the regular California and expands on them. With the Grand California, you not only get four seats and a kitchen, but also a permanent bed at the rear, ample standing room throughout, and the added bonus of a wetroom with shower and toilet. The interior conversion is meticulously done by Volkswagen, showcasing their renowned quality. While it may be pricier and less practical for everyday driving compared to the standard California, it truly serves as a home-away-from-home. We were highly impressed when we had the chance to test drive it. Prices start at a sturdy £80,696 (US $102,85) for the short-wheelbase VW Grand California 600, and go up to £83,362 (US $106,24) for the LWB 680.
Volkswagen Caddy California
Downsizing in the California range, the VW Caddy California offers impressive versatility in a compact package. Comparable in size to a family car (and can even function as one), it cleverly incorporates a spacious double bed and a rear kitchen. Designed more for day trips and quick overnight stays rather than extended vacations, the optional drive-away awning expands its functionality, transforming it into a proper operational base. While we haven't had the opportunity for an overnight stay in this model yet, we've had the chance to drive and explore it extensively. It may be smaller, but it comes at a more affordable price point, with the range starting at £32,229 (US $41,08).
Vauxhall Vivaro Elite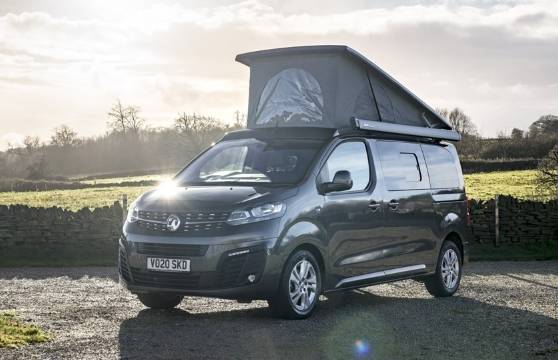 We haven't had the opportunity to test it yet, but the Vauxhall Vivaro conversion by Wellhouse Leisure has gained approval from Vauxhall, making it another "manufacturer-supported" option, similar to the Marco Polo and Nugget. Wellhouse Leisure is known for its quality camper conversions, and the Vivaro model is no exception. While it may not introduce groundbreaking features, it exudes reliability and aesthetic appeal. Moreover, the Vivaro proves to be a pleasure to drive and offers a slightly more compact size compared to its Ford, Mercedes, and VW counterparts. As soon as we have the chance, we'll thoroughly examine and evaluate it.
Toyota Proace Matino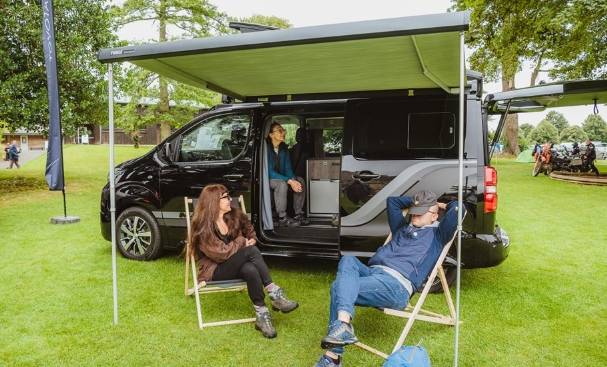 Similar to the Vauxhall Vivaro, this camper conversion is also crafted by Wellhouse Leisure. As the Proace shares the same functionality as the Vivaro, these vans are essentially identical. However, opting for the Toyota Proace grants the advantage of up to 10 years of warranty coverage on the base vehicle.
Third-party conversions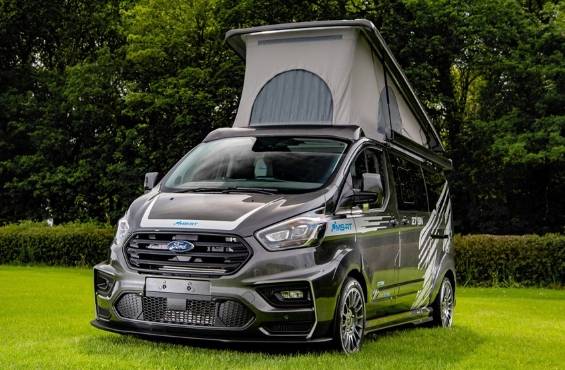 While purchasing a campervan from a main dealer is an option, it's not the only choice available. Throughout the UK, there are numerous motorhome dealers offering a wide range of third-party conversions. These conversions originate from various European countries and offer a diverse selection of specifications and layouts to cater to your preferences.
Opting for a third-party conversion is ideal if you have specific requirements, as it opens up a plethora of options to choose from. You have the freedom to customize your campervan according to your exact needs and preferences. Whether you require additional seats, wheelchair accessibility, a spacious kitchen, an extended bed, or even luxurious features like a wine cooler or unique upholstery, there are converters who can cater to your desires. With endless possibilities, you can create a campervan that perfectly suits your individual needs.
There are even specialized converters who focus on creating campervans using used base vehicles, making them more affordable and budget-friendly options. By utilizing pre-owned vehicles as the foundation, these converters can help bring down the overall cost while still delivering a high-quality campervan experience. This provides an opportunity for those seeking more economical options to enter the world of campervanning without compromising on comfort and functionality.